6 Manual Data Entry Challenges Your In-House Teams can't Handle
May 2nd, 2018 | Data Entry | Pritesh Chauhan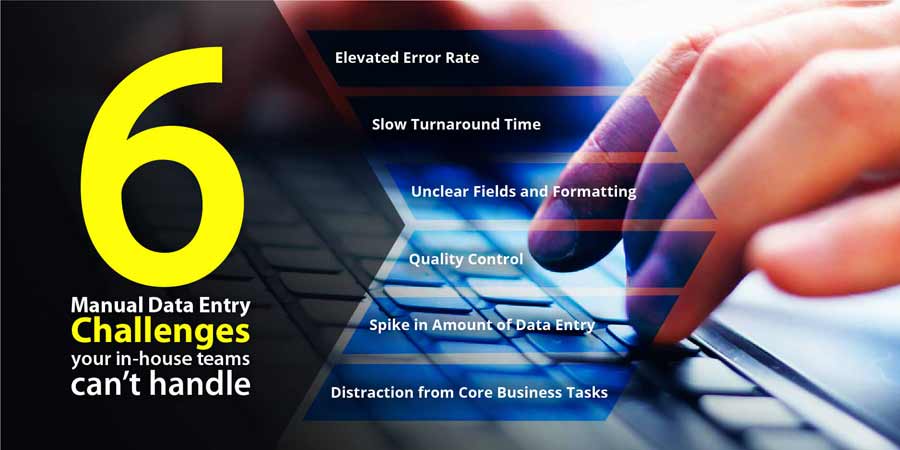 Companies across the globe have acknowledged the importance of outsourced data entry services, as they now firmly believe that paper-free business is a sure-shot way to succeed in this jet-pace age. This rage among majority businesses to go paper-less is due to the reason that they know it will not only increase their productivity, but also will give them a culture with no trail of papers.
Organizations worldwide, are increasingly adopting digitization of paper documents to enhance overall efficiency, improved co-ordination, increased productivity and flawless management. But to reach out to digitization of paper documents, their journey begins with manual data entry. It is extremely critical for businesses to capture all relevant information; whether it is inbound documents like feedback forms, catalogs, invoices, purchase orders, etc. into software, Microsoft applications like Word, Excel, ERP applications or cloud-based applications, for further processing and utilization.
Enlisted are the manual data entry challenges your in-house teams can't handle, and you need the expertise and experience of outsourced service providers:
1. Elevated Error Rate
Inadequate training to data entry professionals, unreadable handwritten forms, misunderstanding the comments etc., contributes to elevated error rates.
Overall impact of errors, due to whatever reason, degrades the brand image and can have adverse effect on internal operations, customer satisfaction and external supplier relationships.
Organizations should take prompt action and recognize the reasons of error and the error rate. Pick up a sample of records in a timely fashion and enter the same fields into the output of the query for further verification.
2. Slow Turnaround Time
The number of keystrokes per hour needs to be higher for data entry tasks that have heavy text or which requires thorough understanding of the text.
Good speed of data entry from paper documents ranges somewhere between 10,000 to 15,000 keystrokes per hour, however data capture from document images is faster as compared to others. But companies usually never have high-speed scanners to convert paper documents to images for faster data entry.
If turnaround time consistently under-performs the accepted benchmark; there are chances that manual data entry process needs maximum optimization.
3. Unclear Fields and Formatting
Many expert data quality controllers thinks that a typical data entry challenge mostly consists of operators missing out on values, a lot of times.
Assigning blank values, vague substitutes, default values or the first entry appearing in a box can create inconsistencies in the final output.
To overcome this challenge, the paper or scanned document and the software application should comprise of easy-to-understand fields.
4. Quality Control
Data entry works on 1-10-100 rule, which translates like: $1 to verify data accuracy during entry; $10 to clean up or amend data when it comes in batch form; and $100 or more for each record if timely action is not taken. Based on this principle, it is obvious that quality control forms an integral part of the manual data process.
Therefore, businesses need to invest wisely while adding up quality check personnel to examine the accuracy of manual data entry tasks, and should as well execute practices such as double entry System or double keying methods to make sure only the right output is acquired.
5. Spike in Amount of Data Entry
An eCommerce business when announces a huge sale, it requires enormous volume of data entry from paper catalogs into their websites in a timely fashion for an effective marketing campaign.
Similarly, a manufacturing company opening a new office in some new location might have an unexpected inflow of purchase orders from new clients.
Managing such a sudden spike in manual data entry work puts immense pressure on manual data entry professionals, and may inadvertently result into a rise in the number of errors as well.
6. Distraction from Core Business Tasks
If manual data entry is taken in as one of the core tasks for any business, it certainly will distract the employees from actually completing other critical business activities. This, itself can have a damaging effect on the organization in the future, as targeted efforts to attain strategic business goals gets weaker.
Technologically equipped data entry teams of outsourced service providers can capture data in a quick and convenient manner. Manual data entry will always have a crucial role to play, especially for unstructured data and its validation. To ensure better manual entry; several successful organizations across the world are outsourcing it primarily to overcome the challenges they have faced while executing the process in-house. Offshore data entry service providers or BPOs offer high quality data entry, scalable operations and optimal turnaround time; that proves to be an ideal thing for manual data entry outsourcing.